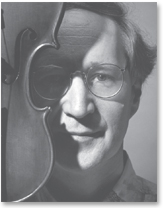 Helmut Lipsky
Born in Germany, Helmut Lipsky studied violin with Abraham Comfort at the Winterthur Conservatory in Switzerland where he received degrees in performance and pedagogy. He continued his studies in New York, working for three years with Professor Ivan Galamian. Later he was a pupil of Itzhak Perlman at the Brooklyn College Conservatory, where he obtained his Master's Degree. He was awarded the Presidential Scholars Award from the Council of the City of New York for his merits as a violinist and his academic work. Shortly after he toured the US with chamber music ensembles and as a soloist with orchestras in Switzerland and the United States.
Resident of Montreal since 1980, Helmut Lipsky is very active on the national and international music scene as a violinist, composer and teacher in the realms of classical music, jazz and contemporary music. He has taught at several universities and colleges - including Université de Montréal and Concordia University - and is now professor at the Conservatoire de musique et d'art dramatique de Montréal for violin and string improvisation. As violinist and composer, he has recorded many radio and television programs and has participated with his own ensembles - including MÉLOSPHÈRE - at numerous important festivals in North America tours, as well as touring regularly in Europe. He has also written music for cinema, the theatre, multimedia exhibitions as well as for special occasions, like his Harbour Symphony for violin, ship sirens and churchbells performed at Montreal Harbour.
He recorded many critically acclaimed CDs under his and his ensembles' name and has collaborated with renowned artists like Andreas Vollenweider, David Darling, Angèle Dubeau, André-Gilles Duchemin, Gilles Vigneault, Karen Young and Michel Donato on various projects. He has won several prestigious awards: among others the coveted Prix OPUS for his album Helmut Lipsky - MÉLOSPHÈRE, featuring the well-known soprano Suzie LeBlanc in 2011, and First Prize at the International competition of the worldwide community of French language radio stations. He was twice nominated for Best Album at the Felix Awards, Best Concert of the Year by Les Prix Opus in 2006, Best Violinist by the National Jazz Awards in 2006, and was invited as Speaker at the coveted Idea City Conference in Toronto in 2005. Helmut Lipsky has received several funds from the Canadian Arts Council and the Quebec Cultural Ministry.
Click below to watch a performance of Duo Philia's music video for
Fiesta!
, an original composition and one of the ten duos included in
Voyage à deux, volume 2
.
Loading Product Listings…