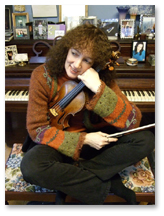 Amy Barlowe
Amy Barlowe, violinist and composer, received her B.M. and M.M. degrees from the Juilliard School after studies with Ivan Galamian and Margaret Pardee. Her chamber music coaches include Josef Gingold, Felix Galimir, Samuel Rhodes and Earl Carlyss.
She is the recipient of numerous awards including the Helena Rubinstein Scholarship, Atkinson and Northwest Area grants. Her critically acclaimed solo recitals and chamber music performances have taken her throughout the United States, Canada, and Mexico, as well as to the major concert halls of New York City. Josef Gingold praised her for "...fine musicianship, excellent instrumental qualities, and a devotion to all things musical." Ms. Barlowe has been featured on
PM Magazine
, performed as guest artist on numerous radio stations, and toured extensively throughout the Northwest as violinist of the Oregon Trio.
In 1988, she and her husband, Alan Bodman, formed the Duo [AB]2 (AB-squared). They have recorded for the Medici and Azica labels.
"Their tonal production is flawless, and musically they meet the highest standards."
- American Record Guide
Amy Barlowe brings her extensive experience in editing and composition to Ovation Press. Below you will find the complete list of scores edited by Amy Barlowe. To learn more about her visit
Ms. Barlowe's website
. You can also see her
composer page
to learn more about her as a composer.
Loading Product Listings…